I set a goal this past year to read 50 books and while I didn't quite reach my goal, I did read some great business books that are worth sharing. Listed below in no particular order are my ten favorite business books I read in 2009, some of which were published before this year.
Happier by Tal Ben-Shahar (Link)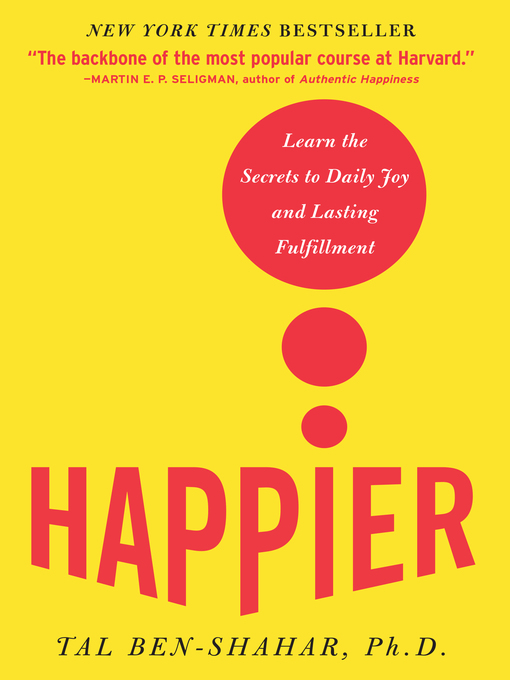 Happier was one of my favorite books of the year because of it's thoughtful exploration of meaning and pleasure in everyday life. Those who are the happiest, Ben-Shahar posits, are the ones who can balance present gain with future gain. This is a book that is widely circulated online and I highly recommend J.D.'s review from Get Rich Slowly.
Outliers by Malcolm Gladwell (Link)

I love the exploration of ideas and no one does it better than Gladwell. As is the case with most of his writing, Gladwell peels back the surface and examines what lies behind our notions of genius, talent, and success. The idea of the "self-made man" and the belief that success derives primarily from super talented individuals are among some of the themes that Gladwell explores in this intriguing read.
Hot, Flat, and Crowded by Thomas Friedman (Link)

Friedman's latest book should be required reading for business school students and anyone who seeks to understand our new energy future. It's also a fantastic read when viewed through a macro-management lens with great recommendations for how to create sustainable systems that will last well into the future.
Group Genius by Keith Sawyer (Link)

Keith Sawyer's book on collaboration is a great companion read to Gladwell's Outliers. Sawyer furthers our thinking of old group and teamwork paradigms and challenges the myth of solitary genius with a number of great examples of radical and open-source collaboration.
The Element by Ken Robinson (Link)

Robinson's exploration of how schools stifle creativity is really a continuation of his amazing TED talk given in given in 2006, which is one of my all time favorite in the series. Robinson details many wildly successful and creative individuals whose talents were either ignored or squashed while they were in school. He presents a great model for school transformation (not reformation) at the end of the book that should be required reading for any school administrator.
The Experience Economy by B. Joseph Pine and James H. Glimore (Link)

This obscure 10-year old book deserves to be updated with some current examples now that many newer organizations such as Starbucks have learned to harness the power of the customer experience to drive loyalty and repeat business. For any organizational leader looking to use experience design to improve their customer experience, there are some great ideas and examples explored in the book that are worth studying. Of particular interest to those in the social sector is the model for creating transformational customer experiences.
The Future of Management by Gary Hamel (Link)

The notion that the human spirit can be unleased in the workplace has long been a hallmark of the social sector, but management guru Gary Hamel's latest book on how organization's can leverage this paradigm to maximize productivity and recruit and retain top talent is essential reading. Hamel details three such organizations (Google, Gore, and Whole Foods) who are turning traditional command and control paradigms on their head and are exploring a break from the traditional hierarchical organization. This is a great read for any manager who wants to further his or her thinking and understanding of management beyond many of the outdated models that are covertly perpetuated in organizations.
Making It All Work by David Allen (Link)

I'm a big fan of Allen's writings and an avid follower of his systematic approach to productivity. This much anticipated follow-up to his ground-breaking 2001 book Getting Things Done (GTD) further expands on the methodology and focuses on the two essential aspects of daily work (control and perspective). The book has many layers to it that unfold with each reading (I read it twice this year).
A Whole New Mind by Daniel Pink (Link)

Daniel Pink's forward thinking masterpiece will at some point in the near future be the way we all think about work and play in the 21st century. One theme explored in some of the other titles listed here is the idea that working "harder" is not always better (see Hamel's profile in Future of Management of Google's 20% personal project time or read about it from this HuffPost piece). Pink beautifully expands on this theme with great examples of play and design and thinking models like l-directed and r-directed thinking. It's a must read for anyone who wants to be on the edge of 21st century thinking.
The Monster of Florence by Douglas Preston and Mario Spezi (Link)

This last bonus book is not a business book as you can tell by the title, but I found it so enthralling that I wanted to included it in my year's favorite reads. The Monster of Florence is the true story of writer Douglas Preston's life in Florence, Italy where he moved to write a series of thriller novels. As part of his research, he quickly uncovers the unsolved mystery of Italy's most notorious serial killer and subsequently becomes part of the story. It's an amazing escape and you'll pinch yourself multiple times when you realize that it's all a true story. I was drawn to the book because my wife and I lived in Florence for a summer and all those who I've passed it on to have not been disappointed. In light of the Amanda Knox case, this has also become somewhat of a relevant read on the notoriously ineffective Italian justice system.
These are just some of my favorites from 2009. What have I left out? What were some of your favorites reads from 2009?